IDC Research Paper: The Business Value of Using Veeam and NetApp to Reduce Data-Related Risks
---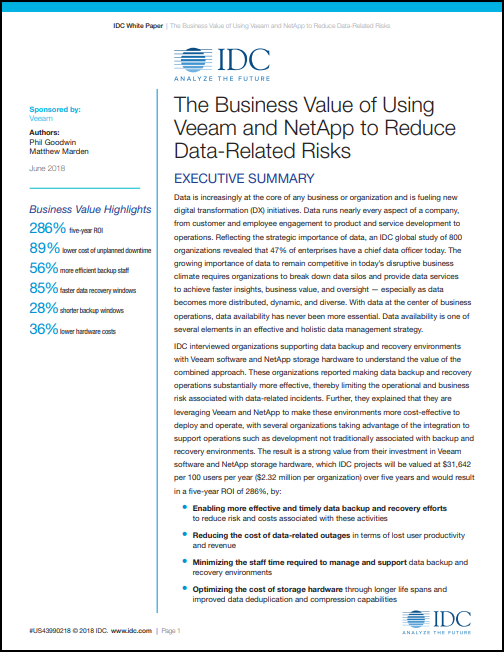 Data is increasingly at the core of any business or organization and is fueling new Digital Transformation (DX) initiatives. And as data becomes more distributed, dynamic and diverse, data Availability has never been more essential in an effective and holistic data management strategy.
IDC recently conducted a study of organizations utilizing Veeam® Availability solutions in conjunction with NetApp Data Fabric technologies to determine the business value of the combined solution.
The study found: 286% five-year ROI, saving $31,642 per 100 users per year ($2.32M per organization)
Key discoveries:
Reduced risk and cost by enabling more effective and timely data backup and recovery efforts
Decreased cost of data-related outages in terms of lost user productivity and revenue
Minimized the staff time required to manage and support data backup and recovery environments
Optimized the cost of storage hardware through longer life spans and improved data deduplication and compression capabilities
Read this new IDC research paper to learn how joint Veeam and NetApp solutions mitigate risk, enhance Availability, reduce IT complexity and lower costs.
Please fill your information below to download the white paper.